About Encore Events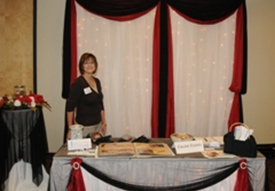 Encore Events was started in 2005 as a social event coordination company – weddings, graduations, fundraising, anniversaries, birthday parties are some of the events we have had the opportunity to create. A couple of years ago, we became a premier décor and rental business. Planning, coordinating and executing an event from start to finish has always been my passion.
For over 25 years, I have planned corporate events, including meetings, client appreciation events and charity golf classics. As an Executive Assistant for a global company, "details" have become second nature for me.
Living on a budget has become the way of life for many of us, but that doesn't mean your event can't look great. I look for ways to make your event shine, yet fit your budget.
I look forward to helping you create your special day!
~ Yvonne Arendt
---
Thank you again for a beautifully decorated reception! Autumn was so happy. Good luck with the business. You seem to be doing just great. I will send people your way.
What can I say… you not only donated so generously to our coronation event, but also worked tirelessly along side the committee members to put everything in readiness, ensuring a memorable and fantastic event. On top of all that, you saved our day with the extra centerpieces. Thank you just seems so little to say! It was great working with you and I hope we will be doing so again. You have my heartfelt appreciation!